In our productions we use a fully integrated, mobile HD production studio - flight pack equipped with four broadcast cameras and the ability to extend it to up to eight Full HD cameras in total. The system can work in multiple formats from HD to SD, with upscaling of SD sources both in PAL and NTSC formats. The flight pack has HD/SD outputs, and has two additional cross-convertes for standards conversion of SDI signals. Additionally, a SD composite signal of the program output is also available. We also offer a smaller system for pure-SD productions.
HD Flight Pack / Portable Production Unit (PPU)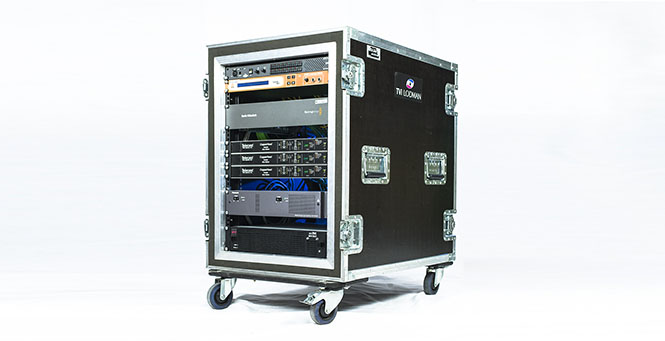 Our HD Fly Pack (or PPU as it's called in the UK) consists of: 16-in, 4-out Panasonic HD video mixer, fiber optic camera CCUs by Telecast - 200m long, with the ability to extend to up to 600m, 16x32 Blackmagic Design video router, Kroma Telecom intercom, wireless camera adapter from IDX, AG-HPG 20 P2 HD recorder (AVC-Intra, DVCPRO HD), adaptable audio module (from 12 to 64 inputs), Panasonic P2 HD cameras: HPX-371, HPX-250. This is a full broadcast studio integrated into a handy case!
SD Production unit
The SD production unit consists of: 8-in digital Panasonic video mixer with SDI inputs, camera chains with Tally and intercom up to 250m length, adaptable audio module (from 12 to 64 inputs), cameras include Sony FX-1 and Panasonic P2 HD: HPX-371E, HPX-250. This is all that you need to produce broadcast-quality television programs!
Satellite Internet connection (DSNG)
We have available a high-performance 21 Mb/s download and 6 Mb/s upload satellite Internet connection allowing webcasting and broadcasting from anywhere in Europe. This is coupled with a high-performance broadcast encoder capable of both DVB-IP and RTMP output. This allows us to send our content live either directly to the Internet or to your studio.